Local News
BREAKING: ECG to publish names of power thieves; Popular politicians, companies, and celebrity names drop
The Ghanaian Electricity Company (ECG) has announced that the names of people who steal electricity in the country will be published soon.
According to the ECG, an audit of all meters will be conducted soon.
According on the results of the field survey, teams of ECG Officials will be sent to update customer information.
Officials will audit postpaid clients who have meters but do not get bills, as well as prepaid users who do not buy power credits, according to ECG.
Today, ECG announces planned maintenance work in various districts of Accra.
Customers with malfunctioning meters, as well as those who have bypassed or tampered with their meters and are thus not paying the full cost of electricity usage, will be targeted.
Customers who have engaged in any type of electrical criminality will also be checked by the officials.
Customers have been given a "MORATORIUM of one month, beginning June 7th and ending July 6th, 2022, to report to our District/Regional offices for repair of the foregoing concerns," according to the ECG.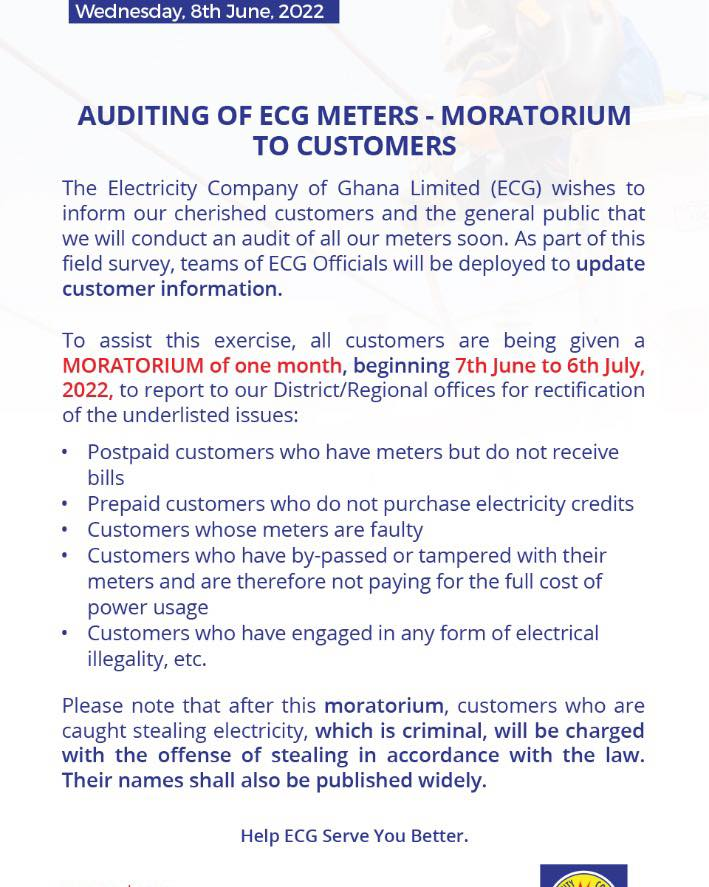 https://t.me/gesnewsupdates