Education News
COLA strike: National Council of PTA sends VERY IMPORTANT message to teachers
The National Council of Parent-Teacher Associations (NCPTAs) has urged instructors to consider their students' condition, particularly in their last years, as they meet the government halfway in order to resolve the issue quickly.
Four teachers' unions have been on strike since July 4 due to the government's failure to accept their demand for Cost of Living Allowance (COLA).
The NCPTAs expressed significant concern in a press release, stating that the strike has the potential to delay the completion of final year pupils in both Junior High and Senior High Schools.
"Final year students of public Junior High Schools (JHS) and Senior High Schools (SHS) may not finish their syllabi prior to their respective WAEC tests." The finalists' plight could deteriorate further because their batch was adversely impacted by the COVID-19 restrictions."
While acknowledging that teachers' requests are valid and within their rights, the Association is urging teachers to reach an agreement with the government and return to their classrooms.
NCPTAs also asked with the government to leave no stone unturned and to expedite negotiations so that industrial peace and harmony may be restored.
The Association thinks that the government has the competence and capability to handle the issue and that it must demonstrate leadership now.
Find attached press release below: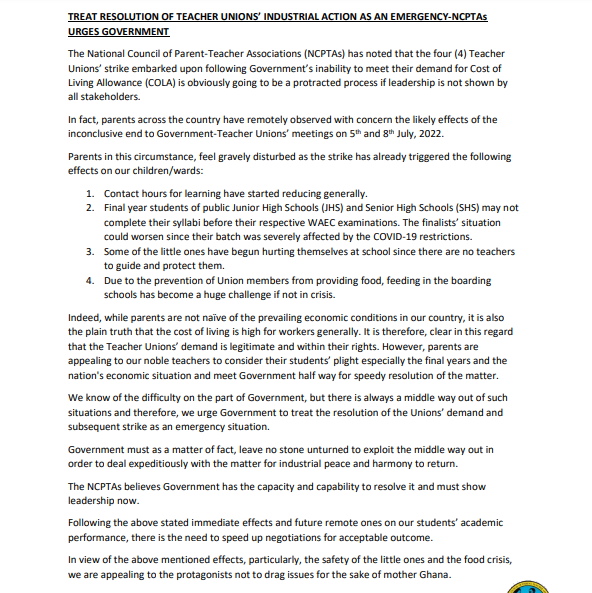 https://t.me/gesnewsupdates