Local News
Final Truth: 2020 Wild Allegation Of Rev. Obofour Killing Human Beings
Final Truth: 2020 Wild Allegation Of Rev. Obofour Killing Human Beings
In 2020, a Next TV journalist named Nana Osei Bonsu brazenly aired some outrageous claims against Reverend Obofour on live television. Reverend Obofour, according to him, was a member of a human murder ring that killed and harvested human spare parts in order to elicit spiritual abilities.
Reverend Obofour, who got concerned, filed a lawsuit against Nana Osei Bonsu, Next TV, and the producer of the show titled TIME WITH HOAHI ON NEXT TV. Next TV later disassociated itself from the case because they gave a disclaimer when the presenter made those outrageous claims.
Two years later, the television host pled guilty in court to spreading false information against Reverend Obofour. Nana Osei Bonsu asked the court to pardon him since he had been misled by a caller who had filed the murder charge against him. He also broadcast it on live TV without doing any more research.
Over the erroneous publishing, the court punished him four thousand two hundred Ghana cedis. Again, he was told to appear on live television and tell the world that Reverend Obofour had never killed anybody. He is anticipated to announce in the Daily Graphic once more that Obofour is innocent.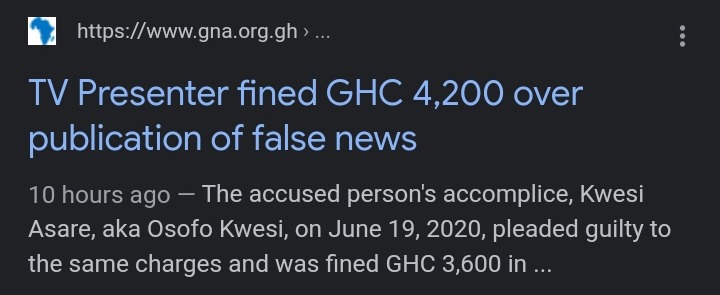 Content created and supplied by: Pen_Sound (via Opera News )
https://t.me/gesnewsupdates