Education News
Ghana Education Service Added More Weeks To Extend Second Term Vacation? See this…
The Ghana Education Service (GES) administration has broken the quiet on the second term holiday date for all basic schools in the nation for the 2022 academic year.
According to GES management, the vacation date for the second term remains the 11th of August, 2022, as previously notified in March, 2022. GES posted on its official Facebook page on Thursday, July 21, 2022:
"The core school calendar issued this year in March stays the same,"
The Ghana Education Service publication or comments come as a backdrop to the purported two weeks or one week increased to the vacation schedule owing to the COLA strike by teachers.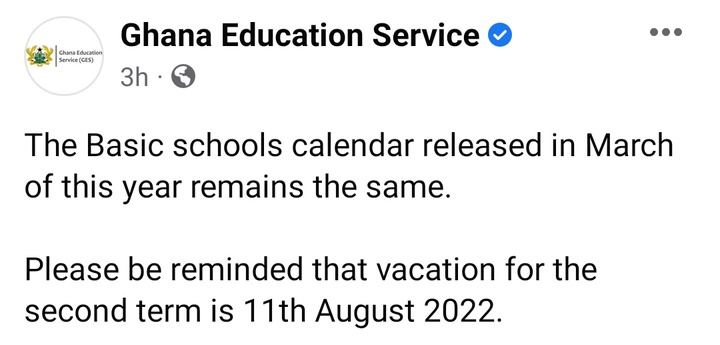 According to this critical notification from management, all parents and teachers are asked to reject any misleading information claiming that the GES would be extended by one week owing to the just ended countrywide teachers strike.
The vacation date stays same, thus no additional weeks will be added to adjust the calendar for this year, notwithstanding the strike action.
Content created and supplied by: Currentworldnews (via Opera News )
https://t.me/gesnewsupdates