Education News
JUST IN: GES Director-General Sends Strong Warning To Teachers; Concern Teachers Union Drops A Note-Full Details
Prof Opoku Amankwah, the Director General of the Ghana Education Service, has issued a severe warning to all primary and secondary school teachers for the upcoming vacation.
Following the Ghana Education Service's (GES) unexpected change of vacation date for all Basic Schools, the Director General of Education, Prof Opoku Amankwah, in his jurisdiction, has issued a strong warning to all Basic Schools Headteachers and Teachers (Primary and JHS) who are finding it difficult to accept the new development.
The new development, according to the Director General, is the outcome of the National Standard Test, which will be written by all Basic four (4) students on December 17, 2021.
The Director General of Education has issued a communication through the Regional Directors of Education stating that NO PRIMARY OR JHS TEACHER shall be away from school till the National Standard Test is completed on the aforementioned date.
"Effective immediately, all Directors of Education from the Regional to the District Level MUST ensure that all members of their staff are on duty," he added.
"Please note that all Public Basic Schools (KG-JHS) will evacuate on the 17th of December 2021," the Ghana Education Service said in a statement.
According to GES, 561,595 students from Primary 4 Public Schools will take the Standardized Test at 2,609 different locations.
A total of 15,911 schools are projected to be required to participate. The aforementioned numbers indicate that each center has an average of 200 students.
In related news, the Coilation of Concern Teachers Ghana has issued a press statement expressing their displeasure towards the extended stay in school.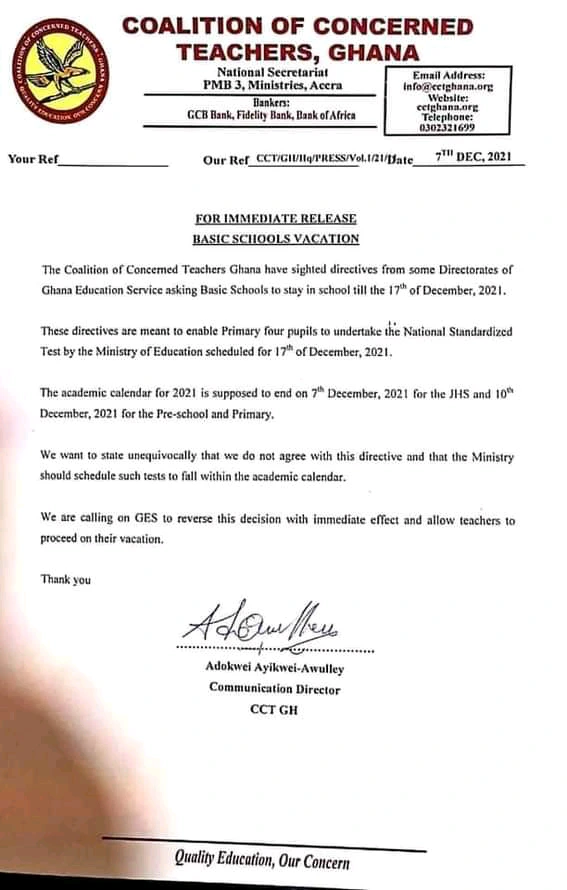 https://t.me/gesnewsupdates