Uncategorized
WATCH: Man killed by lion at Accra Zoo for trespassing on its perimeter; Sad video drops
WATCH: Man killed by lion at Accra Zoo for trespassing on its perimeter; Sad video drops
According to the Forestry Commission, a guy who allegedly went into the lion cage at the Accra Zoo on Sunday afternoon and was mauled by a lion has been recognized as dead.
He was injured, and his corpse was carried to the mortuary when he died.
The motivation of the invader is yet unknown. How could an honest person endanger his life by entering the lion's lair in this manner? It's beyond comprehension, but he had the arrogance to endanger his own life in that way. His dead body was discovered by zoo security workers about midday.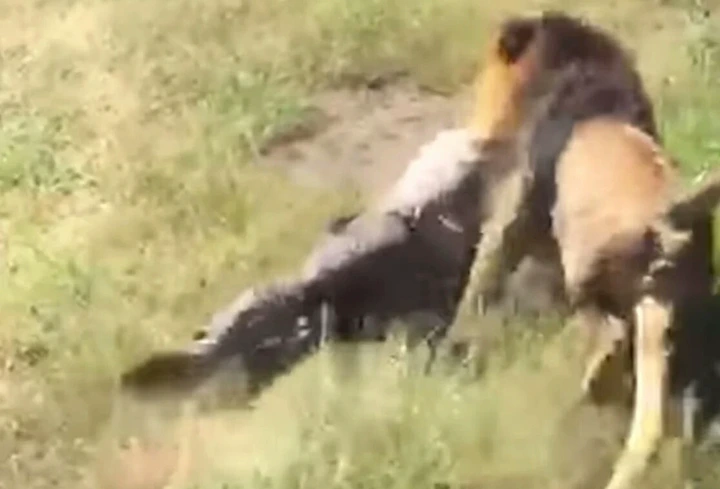 According to a statement issued by the Forestry Commission's Chief Executive, John Allotey, under whose authority the Accra Zoo falls, officials of the Accra Zoo on a routine patrol noticed a middle-aged man (an intruder) had jumped the security fences and entered the Zoo's lions enclosure around 12 p.m. on Sunday (August 28, 2022).
One of the lions attacked and injured the intruder within the enclosure's inner fence.
The Accra Zoo management were praised for successfully capturing the lions and inviting the Achimota Police to transfer the remains and commence an inquiry.
There have already been numerous reports that the lion has escaped from its cage and is now free to wander the jungle. Several FM radio stations mistakenly reported that the lion was still free, potentially endangering many people in the Achimota region.
"We want to reassure everyone that the lion, lioness, and two pups at the Accra Zoo are still safe and secure."
The Forestry Commission wants to reassure the public that no lions have escaped from the Accra Zoo.
On Sunday afternoon, the Deputy Minister of Lands and Natural Resources, Benitor Owusu Bio, and the Chief Executive of the Forestry Commission, John Allotey, paid a visit to the zoo to check that all facilities were secure.
"I think the most essential thing to do right now is to boost up security around the regions of the wild animals at the zoo to prevent additional such terrible incidents," he said.
Content created and supplied by: Bronzeman (via Opera News )
https://t.me/gesnewsupdates